The Arc promotes and protects the human rights of people with intellectual and developmental disabilities and actively supports their full inclusion and participation in the community throughout their lifetime. ACHIEVE WITH US
August 2019
We have moved!
New Office Location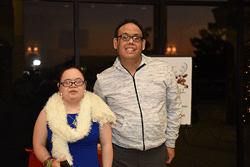 Dear Service User, Families, Stakeholders, Partners,
​
It is with sincere regret that we inform you that The Arc of Greater Houston (AOGH) will no longer be able to provide Right to Learn (RTL) services and supports, effective February 10, 2020. It is our upmost priority to inform you about this decision as we realize this may cause a hardship to families. We are extremely proud of all that we have accomplished in these glorious 35 years and could not be more thankful to those who have believed in us and invested in the RTL program.
We have explored many options and made ongoing efforts to secure crucial additional funding for this program but have not been able to make up for the substantial funding loss for the RTL program. As a regrettable outcome of this, we have no choice but to eliminate The Right to Learn program (this includes parent advocate services and special education trainings).
We continue to provide all other programs and services and we are looking forward to implementing new youth and adult programs, with more information to come.
Our hope is that our Parent Advocates have provided you with the tools and knowledge to further advocate for your son or daughter. You can still find resources here on our website and we will be happy to answer any questions you may have during this transition period.
Please be assured that the Board of Directors has not taken this step lightly. We appreciate your continued support during this transition period and look forward to better days ahead.
Best Regards,
Janniece Sleigh The Arc of Greater Houston
Executive Director Board of Directors