The Arc promotes and protects the human rights of people with intellectual and developmental disabilities and
actively supports their full inclusion and participation in the community throughout their lifetime. ACHIEVE WITH US
Hello Arc of Harris County Supporters,
In light of the current surge in COVID-19 cases due to the Omicron variant, AoHC leadership and board members have elected to move our annual meeting to a virtual meeting via Zoom. While we were excited to see everyone in person, celebrate a resilient 2021, and look forward to an exciting 2022, it was our feeling that this would be the safest option for all parties involved.
Due to the shift to a virtual format, we will be making a slight adjustment to timing. The annual meeting will still be held on January 25, 2022. The time of the zoom meeting will now be 6:00 – 7:00 PM on 1/25. We are moving our registration to Zoom's platform, so if you'd like to attend, please fill out the form at this link, and you'll be emailed a link to the meeting at the email address you use to register.
Again, we're sad about this transition to a virtual meeting, but if this pandemic has taught us anything, it is that flexibility and patience are both keys to our continued success. We are happy to have your support, and we thank you all for your continued patience and flexibility as we press and look forward to supporting the IDD community of Greater Houston.
Please reach out to Dory Cayten with any questions you have at dory@aogh.org. Thank you, and have a wonderful day.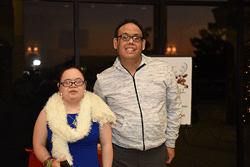 August 2019
We have moved!
New Office Location