Camp Champions Updates (4/4/22)
Registration is now open!

We are partnering with CampSite Management to use a new registration software that is really amazing. We will be able to use this software for all of our programs, not just camp.

This software will allow us to safely store participant information as well as make the sign-up process easier and more efficient.

I appreciate your patience as we finish setting this up.

Our camp dates are July 24-29. You will receive a welcome packet with specific information upon completion of your registration.

The theme for Camp Champions 2022 is.... *drum roll*..... Holiday Hoopla!

Every day will be a new holiday so dress accordingly!

Monday- St. Patrick's Day

Tuesday- Mardi Gras

Wednesday- Christmas

Thursday- Independence Day

Friday- Halloween

Updated COVID-19 and health policies will be provided during registration.

Cost for camp this year is $985.00

CampSite will require you to at least make a deposit and you can enroll in a payment plan or pay in full.

If you are paying via check or waiver please contact Jacob for payment instructions prior to registering.

If you filled out a new participant or membership form on our website, that was not the camp registration. I apologize for any confusion.

We will be accepting the first 130 campers. Anyone to sign-up after will be placed on a waitlist.

Camp Champions is now for participants 18 years old and up and will continue to be at Camp For All. Starting in 2023 will be launching an additional camp program for ages 10-17 at Camp Aranzazu in Rockport, TX.
All of this information is subject to change.
I thank you all for your patience through this process. If you have any questions, comments, or concerns please don't hesitate to reach out.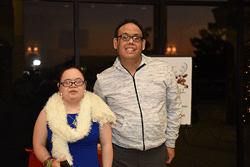 August 2019
We have moved!
New Office Location